As part of George Brown College's ongoing efforts to deliver industry-leading, applied education, the School of Fashion and Jewellery Studies is pleased to announce that students in the one-year Gemmology program will be made available to help out employers during this academic year.
The program:
With students being asked to volunteer a minimum of 8 hours during the year, we would appreciate your participation in providing volunteer opportunities with your event/company. All we ask is that you fill out a brief evaluation of the student's performance once their hours are complete.
Work-Integrated-Learning, also known as Field Education, is an integral and defining characteristic of a George Brown education, which has proven to be successful for both industry and students. With the introduction of this new applied learning opportunity, we hope to continue this tradition of win-win scenarios for our partners.
If you are interested in participating in our program, or if you have any questions, please feel free to connect with us. We would love to send you eager, motivated students, who are looking to make a difference.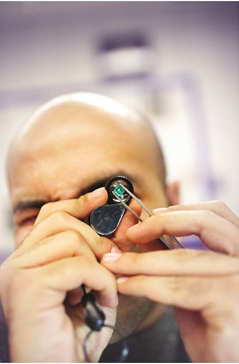 Click here for additional details on the program.
Jewellery Studies, George Brown College
Field Program Contact:
Michelle Walc
Field Education Coordinator / School of Fashion & Jewellery Studies
mwalc@georgebrown.ca/ 416-415-5000 x6469